Beginning Fly Fishing, Deschutes River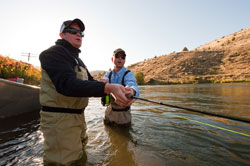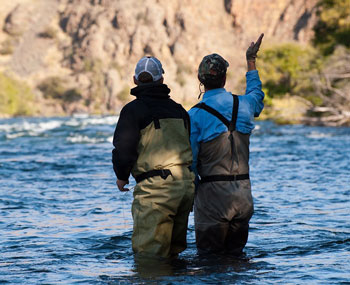 Duration: 6 Hours (approx.)
Location: Madras, OR
Beginning Fly Fishing, Deschutes River
This is a six hour class. The first two hours are spent at the Deschutes River Fly Shop within eye shot of the river. Learning about the basic equipment, terminology, sets up, entomology, fly selections, etc... On the lawn in front of the fly shop we then learn basic fundamentals of fly casting including how to false cast, roll cast, present a fly, etc.. getting to practice as much as possible. After the first segment we wader up and head to the river where we will learn basic fly fishing skills and techniques. The Deschutes River Fly Shop and Camp is 2.5 hours from Portland, and an hour from Bend! A cabin rental and camping is available on site if you want to stay over either prior to your class or after! Fishing equipment rentals are available though included in the class.
Topics
and material covered include:

Dry fly and nymphing techniques and set ups for rivers.
Basic aquatic entomology
Fly selection
Line maintenance and mending
Fighting Fish
Catch and Release

You should plan on spending the whole day participating in this class. Bring a lunch!

$200 per person, for 2 people, $175 per person for 3 or more.

A syllabus with knot diagrams and a fly rod and wader rental is included.



A fishing license is required, and not included or provided.